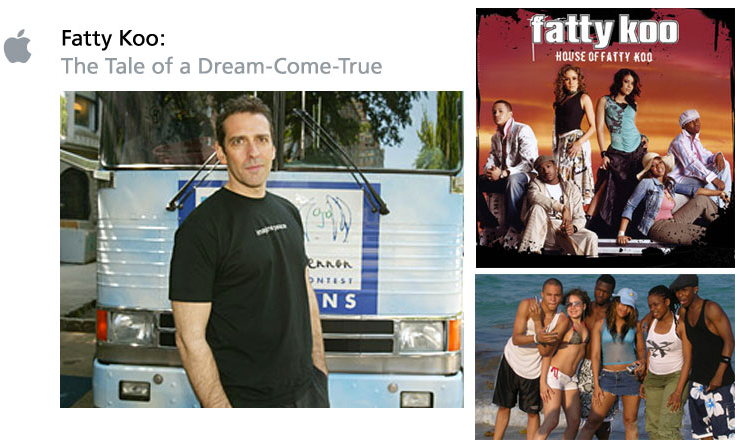 It's a story that quickens the pulse of anyone who's ever been young and burst out in song – even if it was only in the shower. A bus arrives in Columbus, Ohio. A bunch of kids from a struggling community arts program hop on board and discover, to their delight, that they're in an honest-to-goodness recording studio. Their task is to write and record a song, and make a music video — in just one day. Because tomorrow, the bus will be moving on. 
Music Makes Strange Busfellows
On the bus that fateful day was a sweet-voiced, strong-willed young songstress named Valure. Valure knew Gabrielle from their time harmonizing together in church — and vying for recognition as the choir's best vocalist. Gabrielle's friend, Eddie B., had been nursing songwriting ambitions for years. He knew Ron — rapper, keyboard player, and aspiring producer — from the neighborhood. The wild card in the mix was Marya – a Venezuelan-born classical cellist whose talents would earn her a scholarship to the Oberlin Conservatory of Music. 
That scholarship, ultimately, would have to wait. Because, by the time they got off the bus — even tough they'd never played together before — they were destined to become a unique pop group called Fatty Koo. A group with a big-time New York manager, a recording contract with Sony BMG Music, and a CD poised to hit the charts. 
The story of their pothole-filled journey to potential stardom has been preserved in the BET documentary series "Blowin' Up: Fatty Koo". The story of what transpired on the bus that day is a somewhat less fraught with drama — but slightly more earth-shaking in terms of what it implies for the future of music, aspiring musicians, and the music business in general. 
When the John Lennon Educational Tour Bus rolled into Columbus, Herminio Queiroz — one of several hard-traveling audio engineers staffing the bus, a non-profit enterprise committed to giving young people free, hands-on experience with creating their own music and video projects — had reason to be excited. The studio in the bus had just been outfitted with two hot new Power Mac G5 computers, eight PowerBook G4 laptops, and Logic Pro music production software. 
"What that meant was that, instead of a hodgepodge of hardware-based samplers and sequencers, we finally had a single, software-based system that could do it all," says Herminio. "I was just getting acquainted with the whole system, and realizing how much it would free me to work more directly with the kids, and not with the technology."

But even more exciting was how well and how quickly the future members of Fatty Koo gelled into a musical unit. "I'd been on the bus, working with groups of students for a couple of years, doing everything I could to help them learn how to write and record songs," says Herminio. "But this was the first time where the chemistry was really strong, right from the start. All of them were excellent singers and songwriters, and Ron produced the whole track. Usually I had to get heavily involved with that end of things, but in this case the creativity was just flowing. In six hours we had a solid music track and a video — and it was done with ease." 
Meanwhile, Somewhere In Manhattan…
Cut to the New York office of Brian Rothschild, founder and tireless fundraiser for the John Lennon Bus. "I always get the finished music videos from the bus. You know, I pop them in my PowerBook while I'm doing a dozen other things. And that's when Valure's voice caught my ear. It was so rich, so immediately credible, so unmistakably real. I just got ridiculously overexcited, and played it over and over. Because I'd seen so many very talented kids, I'd been looking at these things for years, but this was head and shoulders above anything else. It was the first thing that made me think, these kids could be professional." 
Rothschild brought the music to the attention of David Sonenberg, an impresario whose résumé brims with genre-defying (and million-selling) acts like the Fugees, the Spin Doctors, the Black Eyed Peas, and Joan Osborne. Suddenly, wheels were in motion. Contracts were wielded. And the lives of a bunch of kids from Columbus, Ohio were about to change forever. 
Bad Breaks In The Big Studio
Flown to New York and thrust into a state-of-the-art studio with two industry-savvy, hit-making producers, the members of Fatty Koo responded as anyone naturally would — by freezing up. 
Intimidated by immense consoles with innumerable knobs and faders, locked in individual rooms, strapped to hundred-dollar headphones, trying to communicate through walls of soundproof glass, the group ended up with a handful of tracks that made not a single soul happy. Not their new management. And not the musicians. "This," sighs Valure in a poignant moment from the documentary series, "is no better than what we did by ourselves." 
Suddenly, Fatty Koo was at a crossroads. "They'd worked together for a year, they'd written 40 songs or so, they'd been to a really big studio trying to produce the best of those songs — and it went totally wrong. Everyone hated those productions. And they were at point zero. They were about to lose their deal because, though the music was good, it just wasn't great enough." That's the memory of Toby Gad, a producer that David Sonenberg turned to when the chips were down. 
"David told me about Fatty Koo, played me some of their demos," says Toby. "When I heard their voices and saw their pictures, well, I fell in love with the group.  I told David, hey, even if you don't have any more budget, just give me a plane ticket — I'll go over and try my luck with them." The strategy was to shift gears completely, get back to their home base, and see if Toby and the group could recapture some of the musical magic that first happened on the bus. 
"I went to Columbus," says Toby, "and of course, Fatty Koo didn't want to know about another New York producer. So I had to win them over." Toby's secret weapons were his wide smile, his humble attitude, and his "small-is-beautiful" production system. "I brought a good microphone and my PowerBook running Logic Pro. That's it. I had the essentials I needed to record an album. 
"You see, when you're creating with people, it's such an intimate process that you don't want anyone else around. You don't want studio technicians running in and out. You don't want a mountain of gear getting in the way. When it's just me and my PowerBook and the artists in their living room, all that distraction is eliminated. And we can really work together, be loose and in the moment. 
The pressure was on — Fatty Koo knew this was likely their last chance to deliver a strong album — and simmering tensions within the group were running hotter than usual. Toby took advantage of the situation by encouraging them to transform every emotional moment into music. "When an argument broke out between Valure and Gabrielle, I'd say okay, keep fighting, but let's write what you fight. I'd play the piano and cajole them to sing their barbs to each other. Soon they were fighting and singing at the same time. And the music got real again. It was so emotional, it was great." 
After just four days in Ohio, Toby returned to New York with four new tracks. "The management team loved them," he says, "and they sent me right back to Columbus." Forty days later, the album was virtually finished, made completely in Fatty Koo's living room studio and produced on Toby's PowerBook. "The experience was totally spontaneous. And I think you can hear it." 
The completion of the album was just the beginning of another arduous show-business journey. Fatty Koo now had to transform their music into a viable live show, and learn to project the energy and charm of their recordings to a living, breathing audience. The ups and downs of that ongoing effort are well documented in the weekly installments of "Blowin' Up: Fatty Koo." 
The obstacles are many, and often ironic. Gabrielle, an obvious choice for the group's sex symbol, has trouble dancing. Supremely self-confident Valure suddenly can't cope with a photo shoot. Eddie B., one of the group's key songwriters, faces the specter of being axed because his singing voice doesn't stand up on stage. A new member, singer and saxophonist Josh, must elbow his way into the group's fragile camaraderie without stepping on too many toes. And all of them must confront their daily demons in the harsh glare of a video camera. 
Hanging Tight To The Human Touch
What ultimately emerges from the documentary series is a  coming-of-age-in-showbiz story. The story of aspiring musicians grabbing for the brass ring, fighting amongst themselves, making necessary compromises, and cohering into a family — while the star-making machinery of managers, producers, choreographers, voice coaches, photographers, fashion consultants, and stylists swarms around them. 
What emerges is a portrait of some very determined young people trying, against all odds, to cling to the communal spirit that blossomed one day on a bus in Columbus, Ohio. 
Ron of Fatty Koo, speaking from a different bus – this one the group's own, as they tour the country in support of their first release – puts it this way: "Music is what I've always wanted to do. Whether it was in the basement of a church or on stage in front of hundreds of people, it's still a blessing to be where I'm at, making music. For us, it happened overnight. For you, it might take a while longer. But we're living proof that dreams do come true.